Nice and Cosy Ceramics Shop
We located in Praiano, the Heart of the Amalfi Coast and sell fine ceramics and quality souvenirs
It is a real Open-Air Museum
It's Praiano, where art meets nature
Hand painted and hand made
Everything is a heart and soul of ancient masters of Vietri, bring home the authentic Italian craftsmanship
From 1960 we produce best ceramics you can find in Amalfi Coast
Costumers speaking about us
"I visited this shop last summer when I was on holiday in Praiano. I suddenly fell in love with their Ceramics made in the close Vietri sul Mare. The family was super friendly and they have arranged a shipment to USA with some tiles we bought to build our own table.
We have just found out they have a website and we cannot wait to receive the other fantastic pieces we just ordered."

Anne

USA
"We discover this shop after we went food shopping as they are literally next to each other.
We bought some amazing souvenirs to bring home. The tiny ceramic cups are just so lovely and colorful, I remember we spent so much time in there as we were amazed by the collection they had.
Also they ship worldwide. Highly recommended, a hug to the Rispoli family from Australia."

Timothy

Sydney Australia
"Ho scoperto questo negozio sui canali social che mi hanno reindirizzata su questo sito dove ho potuto comprare un set di piatti che cercavo da molto tempo. La spedizione è stata veloce e lo staff mi ha seguita nella comunicazione per tutto il processo di acquisto. I piatti sono bellissimi, persino più belli di come li immaginavo, spero di poter visitare la Costiera Amalfitana l'estate prossima e poter passare di persona in questo negozio."

Giulia

Firenze
"Ciao Teresa, Anna and Mariella! I Rember these three sisters running this beautiful shop in the beautiful Praiano where I bought post-cards and gift for my family!"

Karl

Germany
Bring home the Amalfi Coast,
gift an emotion from Praiano.
SHIPPING WORLWIDE
After your order we can talk all the details and will arrange the shipment, wherever you are! You will see the cost of the shipment during your order. We use Transfer-wise which is a multy-currency business account that will facilitate your payment.
We also have paypal.
TRADITIONAL QUALITY PRODUCTS
Ceramiche da Mario is located in the heart of Praiano and boasts some of the most beautiful Vietri ceramics of the Amalfi Coast. It is pure tradition and Italian quality.
THE HEART OF THE AMALFI COAST!
Praiano is a small town located between Positano and Amalfi. It is a small fishing village known for its authenticity you get to experience when you visit it. A Very quiet and relaxing atmospehere will leave you speechless. A dramatic setting whre the local small houses and Villas are surrounded by gardens and nature and by the blue of the Sea. Praiano enjoys of spectacular views: Li Galli Island, famous worldwide for the Odisey legend of the mermaids. You can also admire it from our shop.
Capri's Faraglioni Stacks and Positano also lay in front of Praiano.
Many artists have been inspired traveling to this place.
Today, if you have a stroll around this town, you will discover little-known alleys exploding with colorful ceramics Installations.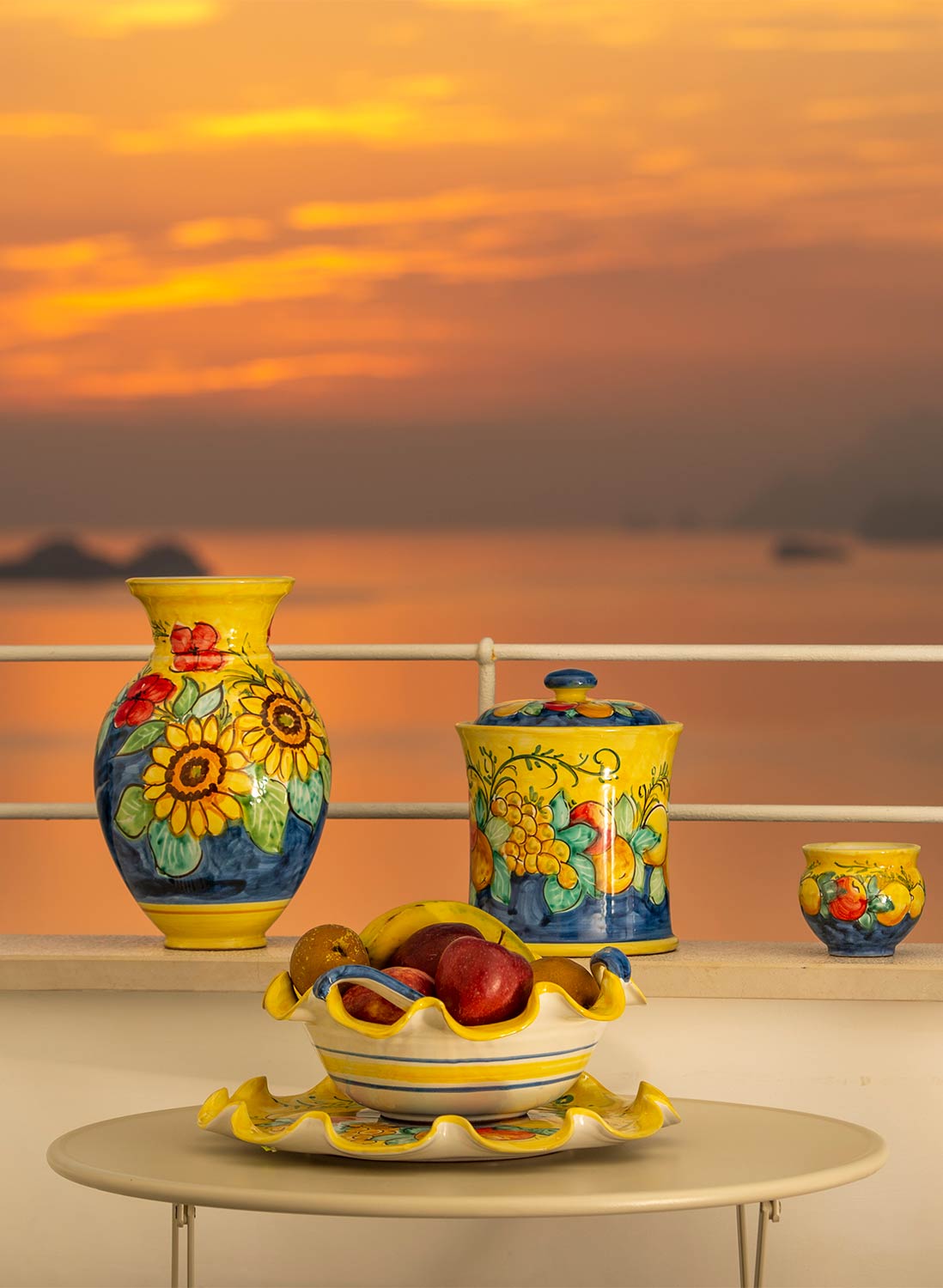 Art works are installed all around the town are part of the
Naturarte Project
The artists were asked to draw inspiration from the past or the local values and traditions and to revitalize and reinforce the concept of "street art" typical of the traditional shrines."
As we have been inspired too from this amazing project, we have decided to sell
both in our store and on-line,
very similar art pieces hand-made and hand-painted by other local artists of the Amalfi Coast.
The reason is that we want visitors and travellers to purchase a real souvenir, something that will remind you of this place forever.
Our Pieces are hand made by illustrious master craftmen of Vietri sul Mare, where the ceramics tradition was born.
As you might notice from the colors of these artworks, the ispiration comes from the natural setting of the Amalfi Coast: The blue of our Sea, the green of our gardens, the red and the orange of our sunsets, the yellow of our lemons. 
The wise hands of these masters that still use ancient techniques make these products unique. Their Forging, their Glazing and eventually their Painting Decoration give life to unrepeatable objects.